Why learn and use Emacs? This article covers two aspects:
As a tool - guidance for new and experienced users of what is made possible by the packages and environment

As a philosophy of freedom, minimalism, and longevity (yes, you read that right, minimalism)
1.

Intro   

ATTACH

I was an unbeliever once. Emacs? It is slow, kludgy, and does everything but edit text. This was indeed true in 1995. I couldn't even open Emacs (Eight Megs and Constantly Swapping) on my Pentium with a massive 4MB of RAM. So for 20 years, I just didn't understand what people saw.

Given the circumstances, I had a very simple text / console setup:
vim - with a slew of plugins to manage buffers, tiling, etc.
tmux or screen - to manage terminal multiplexing
tiling window manager - ion, xmonad, and finally awesomewm.
mail - used pine, alpine, and then sup
file management - terminal commands or midnight commander (clone of the venerable Norton Commander)
pdf - evince
note management - texts, zotero, polar bookshelf
messenger - weechat, pidgin, etc, etc.
video - vlc, mplayer
music - audacious
shell - bash and zsh
reading - calibre
But emacs had a killer app found nowhere else. In my desire to use org-mode, I got sucked into the abyss and have come out a believer. It started by finding an emacs configuration that had with vi keys. Now, 5 years later, I never leave Emacs. I finally understand why people have loved Emacs, and it's endless customizability, (relevant xkcd) for over 40 years.
So why is it that good? Well, it has an embedded lisp-machine and a design that separates the content and presentation layers that enables it to modify all information that flows through while maintaining extensibility. Given that design, there's a large community which has made world-class software to integrate/interface with all types of workflows with different programs. Additionally, operating on text gives massive benefit with regards to data ownership, simple modification, search, parsing, copying, scrolling, and various integrations. A music playlist is just a text file that can managed the same way as your mail and both can be linked to an agenda file which is put in your schedule. The whole is greater than the sum of the parts. This might appear contrary to the Unix philosophy of doing one thing and doing it well, but I consider Vim being a text editor while Emacs more like a unix pipe which operates on buffers/information instead of streams.
Now, if you're a regular person, firstly, that last paragraph probably sounded like complete nonsense, and secondly, you probably just want something that works without endless fiddling. The unreasonable power of customizability is both a blessing and a curse, but I've actually only used mostly the defaults from other's configurations. My Emacs journey started off with Spacemacs which has a fantastic UI, but on the slower side. But I needed more speed being on an older laptop. Now I use Doom Emacs because of the simplicity, stability, and, of course, the speed. It also supports non-vi keys. In fact, chances are that I've probably spent more time writing this post out than I've ever spent customizing Emacs.
But why bother learning anyway?
There are two aspects to this:
As a tool - what is made possible by the packages and environment which will likely cover what most people do on a regular basis.
As a philosophy of freedom, minimalism, and longevity (yes, you read that right, minimalism)
Here are a few screenshots of my Emacs setup running on a 43 monitor in 4k resolution powered by an X230. Essentially, Emacs is powering 6 normal screens of 1280x1080. It's absurdly awesome.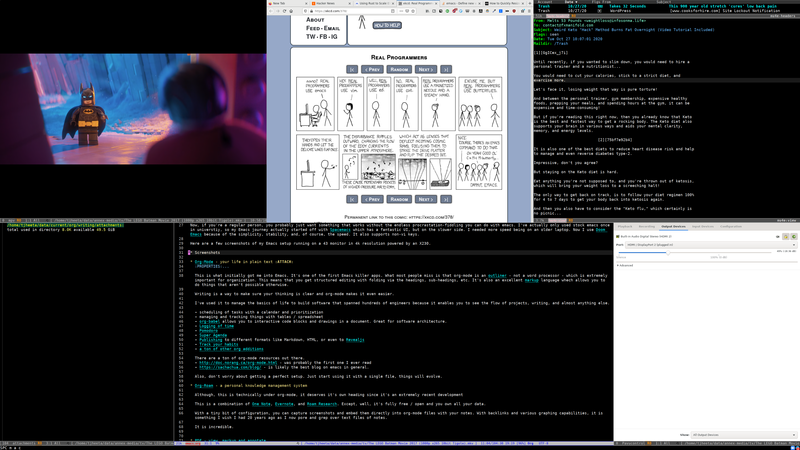 And another one…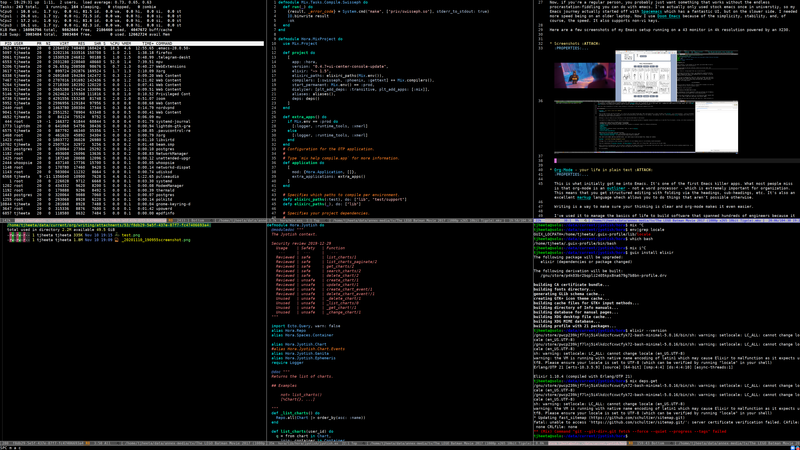 2.

General guide to Emacs tooling for new users
3.

Philosophy on technology

Technology should be evaluated on its merits and benefit to society, not just novelty and newness. It seems pretty obvious, but the only community that I am aware of that evaluates technology before adoptation are the Amish.

Technical progress, by its very nature, allows a smaller subset of people to exert influence over a larger set of objects/population than ever before. And so, more money and power are concentrated into the hands of fewer, and the earning power of the average person decreases. And newer advances, such as social networks and online advertising, are of dubious merit for society at large and certainly don't create food or wealth for the masses.

And with the aim of rapid progress, we've disregarded maintainability - which causes predictable obsolescence. Computers get faster and software eats that away by providing glittery transitions and rounded corners. But the fact of the matter is, the software that an average person uses has been good enough for a long time. For instance, most spreadsheets are rather simple and can be imported into org-mode. The largest spreadsheet I ever worked on was in Google Sheets, and it involved a thousand person re-org with over 10k cells and had custom scripts to calculate various conditions close to recursively.

It also broke Google Sheets.

There is certainly room for software for custom / professional tasks, but that's not the 99th percentile case. Some people still use and consider WordPerfect 5.1 as the best word processor ever made.

So, as software is mostly feature complete for all but the most complex cases, companies need to ensure they make money. Adobe started with the transition to cloud and then disabled access to desktop products. Now even Apple is getting into the services game to turn customers into sources of recurring revenue.

However, if you don't mind being food for Google, Microsoft, Facebook, Adobe, Amazon, etc, you can stop reading here.

But for us to not be food, we need to optimize for freedom, longevity, minimalism, and data ownership.
3.0.1.

Freedom and ownership

Proprietary software has a place in the world. It provides useful functionality which open-source cannot tackle because the open source funding problem isn't adequately solved. However, by using closed and cloud software, we leave ourselves open to a lot of problems.

There are a few trends happenning right now:
These trends are disturbing and will likely get worse over time. It's best to make the switch for personal data sooner than later.
3.0.2.

Longevity

Assuming that we're going to build a library of free software, we want to have software with longevity. Emacs' design has shown empirically over 40 years that it is durable and extensible. We have seen it being ported through multiple hardware architecture shifts and platforms. If we were going to make a bet on a programming language vs Emacs on longevity for the next 50 years, there are only a few languages that I would want to pick in that fight.

And despite evidence to the contrary, I don't like spending time screwing around with computers. I like my software to work and stay working.

So given all we know about Emacs, this means all the basic tasks that I outlined in the first section will likely still work. And if you customized Emacs to make it work for your workflows, that means those should also be intact if they were built-in. Even if they relied on an external program which no longer worked, it's likely that Emacs would be able to interface with a new program that has the same functionality.

I would postulate that an Emacs based workflow is likely going to outlast most software programs.
3.0.3.

Minimalism

Minimalism can be examined on a few levels.
Software
Emacs is certainly not the best tool for every task. It has a reduced subset of functionality and graphics for most tasks. However, if we're trying to optimize for longevity and the least amount of workflow changes, Emacs maximizes the total amount of utility with the least amount of free software that you can use.
Resources
Compared to modern software, Emacs can no longer be considered bloated. In fact, Emacs is getting faster as it ages. There are massive speed improvements in the development branch which should be available in the Emacs 28 release. At the high end, it may take 700MB. At the low-end, it can take 16-32MB. It can work on all sorts of hardware and platforms.
Personal
Can you eschew the fancy graphics and transitions? What's good enough?
3.0.4.

Own your data

Let's say you use Google and one of their algorithms decide to ban you because you posted a picture of your apple pie on Youtube. Well, then at the very least, you have:
All your email and google drive documents locally if you've used offlineimap/mu4e and tramp.
A delicious apple pie to eat.
We're actually moving into a world where the next generation may not actually know what a file is. I've worked on designing systems which extracted data out of large files/designs to be able to interact with other components. On the one hand, this is extremely beneficial for integration and making workflows, but this will eventually cause user data lock in. What is convenient in the short-term is quite dangerous for the user in the long-term.
Emacs can't really help manage photos and videos (which need non-cloud or multi-cloud backups), but chances are, the rest of your generated data will be in plain text files. Other formats may become unreadable over time, but plain text is everlasting and timeless. It's tough to go wrong with that.
4.

Conclusion

In haiku form, it's more important than ever to:
purchase dumb hardware
use software without lock-in
own all your data.

At the end of the day, you want to own your house, not rent it. There are many paths up the mountain - the Way of Emacs - is but one.
I choose this path because I cannot think of any other software that provides so much rich functionality and customizability as Emacs with such a low learning curve. Coming in with a solid vim background, I spent probably 50 hours to achieve my setup over the past 5 years. With Doom and this guide, my guess is future users will spend less than I did.
But on top of functionality, I also want my software to be long lasting, minimal, and have a readable data format. Once I've set something up, I dislike it when it suddenly stops working. Emacs checks all those boxes, too.
Longevity - it has lasted 40 years and gone through many platform changes. There's no reason to assume that it won't be functioning in another 40.
Minimalistic - it's the least amount of software that you can use to accomplish many tasks.
Data - the data it generates is mostly plain text and will be readable by any program in the future

Dealing with images, videos, and music would probably be a good subject for another guide in the future.

.
Learning emacs is no longer a dark and arcane art anymore like it was in the 90's or the 00's. In fact, it gives an unreasonable amount of power in a very small amount of time. I would suggest for anyone that enjoyed this article, download Doom and Emacs 27.1 and give it a shot. Let me know what works (or doesn't work) by mailing contact at sheer.tj and I'll update this post.
Footnotes:
1
Dealing with images, videos, and music would probably be a good subject for another guide in the future.